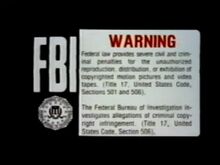 This is the View Video Warning Screen.
1989
This is the first View Video Warning Screen. It looks similar to WCI Home Video/Warner Bros. Home Entertainment Warning Screen. On the black background, we see the FBI letters and the white seal. But it has "Title 17" details instead of $250,000 fine" details, and it says "and video tapes" instead of "in any medium".
Seen on "Infantastic Lullabyes on Video" on VHS in 1989 from View Video.
Community content is available under
CC-BY-SA
unless otherwise noted.