1st Warning
(May 1989-September 6, 1991)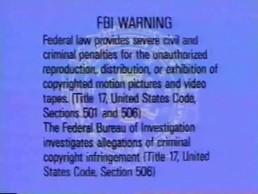 The Media Home Entertainment warning screen with the Title 17 details from 1987-1992.
The black details over a white FBI seal on a light blue background, fading to the INTERPOL warning texts. The warning screen has also been used for South Gate Entertainment, Triboro Entertainment, Schlessinger Video, Video Treasures (now Anchor Bay Entertainment), Hudson Music, Allumination Filmworks, Trans World Entertainment, Lightyear Entertainment, Ardustry Home Entertainment, CBS/Fox Video, Fox Video, Lyrick Studios (including Barney Home Video for early Barney tapes; before the purple-stone background variant debuted) and REH Video.
Seen on VHS, such as Offerings (1989, first South Gate-released film) and Violent Zone (1989).
Community content is available under
CC-BY-SA
unless otherwise noted.